You are STILL unstoppable. Period. No doubts. No matter what.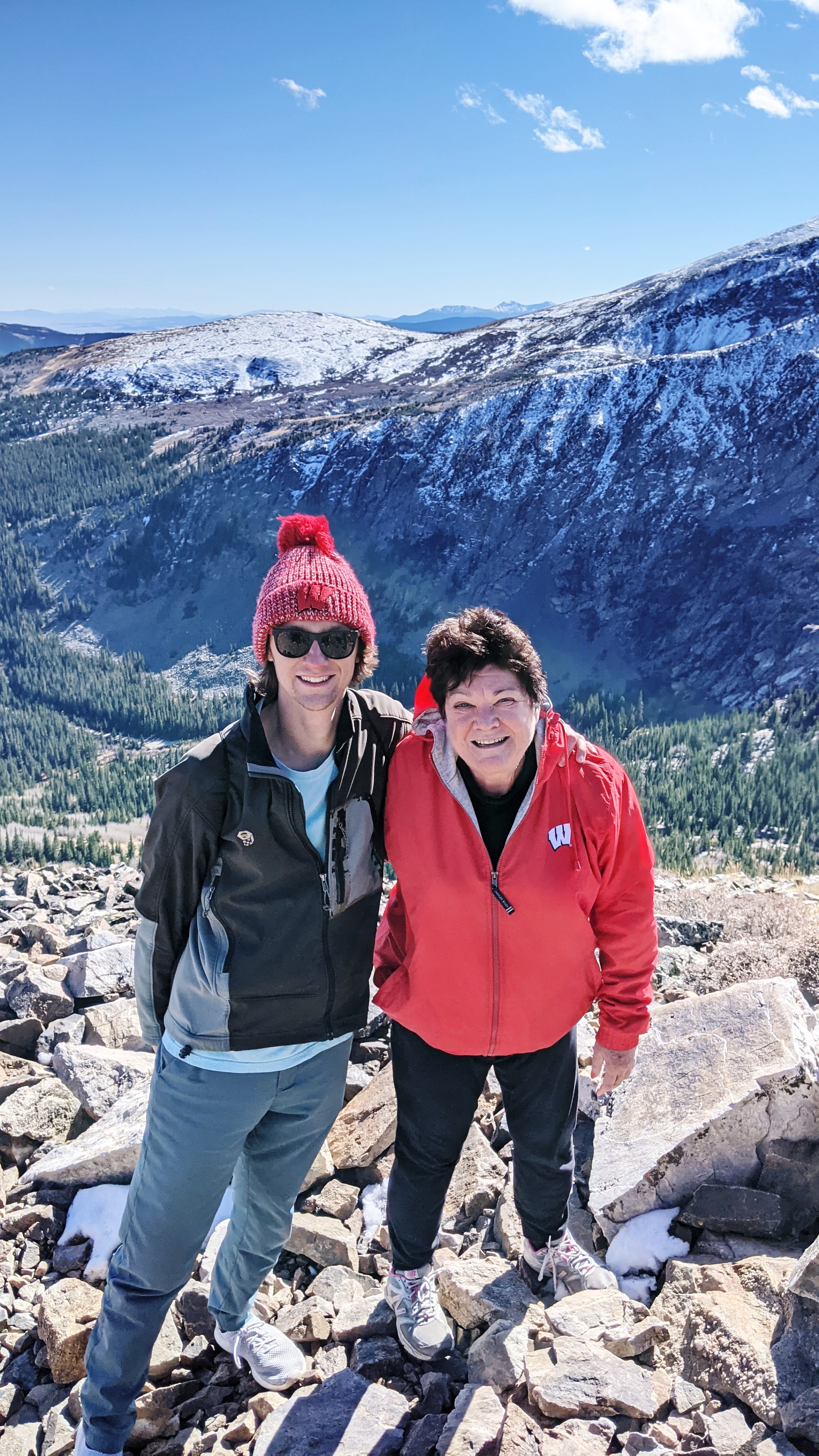 Yet, listen up….you may also feel less sure about your relationships – personal and professional – than ever before.
Why?
Donors, friends and even family, often react now in ways that totally surprise you – this throws you off to be sure! When you could count on a certain reaction to your calls, invitations, conversations or meetings – now you just can't be sure.
Yes, you know it's the world we live in now…but here's the thing. As list makers, goal-setters and planners – even though you KNOW your work is not faulty – stuff just keeps changing. The same task is checked off and then it's back. It's not rational but you begin to wonder, "Can I organize anything? Am I getting anything done?"
Here I am with son, RJ, 13,000 feet, above the trees, on Quandary Peak – the pure physical challenge was a tremendous reminder of what you ARE able to do. I AM UNSTOPPABLE!
Those I coach have this sense of "spinning their wheels" and don't feel as productive even though they ARE working hard and they ARE moving forward. I find the time to rework travel and meeting details is exhausting. Vendors are agreeable – you don't pay fees – and I'm grateful and all… but that doesn't help this nagging feeling I can't feel certain about anything. On top of that come the daily reports – numbers up here, this country is done with lock-downs and opening up, this family member still will not join in a family gathering…..
These uncertainties can have us feeling disorganized and insecure about our relationships with others – including our major givers. Acknowledge your feelings – don't bury them. But I KNOW you – and that you are resilient. Climb that mountain and don't stop.
Marcy's DON'T STOP list!
1. Don't stop believing in your abilities.
You are really quite remarkable. You're caring. You're determined. You are organized, flexible, patient and empathetic. Say it, "I am organized flexible patient and empathetic."
2. Don't stop talking to your donors.
"Let's connect now! I want to be sure we have the time we need to talk through any year-end giving you want to accomplish." This reminds them and helps them focus on the year-end gifts they really do want to make to YOU.
Of the $324 BILLION given by individuals in 2020 in the US, 1/3 or a whopping $108 BILLION was given in the last three months of 2020. Your givers are in the 2021 year-end giving. Check in with your donors – best first – even if it feels like they aren't responding. Change it up – a note, email, call, text. Help them do what they want to do.
3. Don't stop being optimistic.
You have a calling to do good in the world. You have a choice in how you walk through your day. 'I create my life!' Yes, you do and you can use every day to lift up someone else.
4. Don't stop talking about the impact of gifts to your organization.
Big donors like big visions – stress how their gift will support the program, organization's work AND what their generosity REALLY DOES – takes fear away, builds self-esteem, feeds, comforts, inspires.
5. Don't stop finding joy.
What are you thinking? What you think – you become. As much as possible, talk about what is right and good. Watch Disney. Stay excited! Avoid talking about those emotionally-charged issues – be the escape from it all for your givers. Find the joy!
In these times, what works is not necessarily what's right…even when you can get away with less, even when the wrong thing seems like no big deal, even when no one is watching.
Sophocles, the ancient Greek playwright said it best…"Ill gotten gains are the work of evil people with evil intentions."
Embrace this year-end with honor, integrity and good character. Foster those principles and values that give your life greater meaning, direction, pride and significance.
You are really quite remarkable. Especially now!
Invest in JOY®