"For every thing, turn, turn, turn. There is a season, turn turn turn.
A time to be born, a time to die." (The Byrds – listen here.)
For Simone Joyaux, "one of the most thoughtful, inspirational, and provocative leaders in the philanthropic sector worldwide," that time was May 2, 2021. She died from a massive stroke due to Cerebral Amyloid Angiopathy (CAA) a buildup of amyloid protein in the arteries in the brain. Her husband, Tom, said "Her arteries exploded. Her brain was destroyed".
Simone – Her work, her touch, her service lives on.
We were together presenting at the AFP-Dallas Fort Worth Philanthropy in Action Conference in May, 2019. Paul Dunn and Renee Underwood created an amazing experience! In the photo, Simone is next to me in her signature colorful glasses. As I was beginning my luncheon keynote a tornado set in. Given the choice of heading to the basement or full speed ahead, the thought of over 600 "hangry" people influenced my vote to move forward. Simone was in the near front row. Smiling.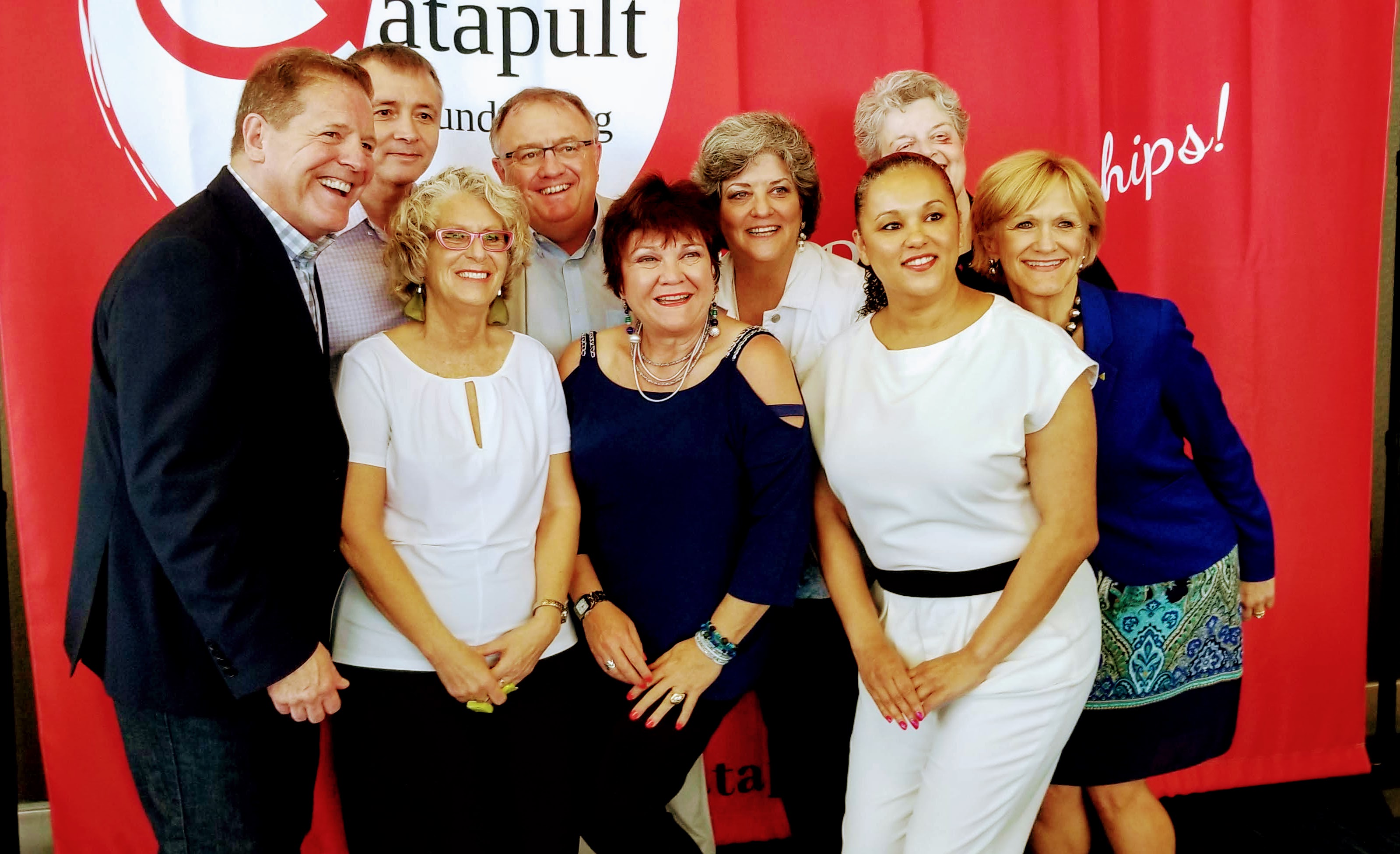 Simone was a leader in respecting and valuing the donor. She, and her non-profit communications guru husband, Tom Ahern, authored the Donor Centric Pledge. Tom tells me they wrote this together at a B&B in Tucson, AZ between hikes in the desert. Coming from 23 years raising major gifts at the University of Wisconsin Foundation, I was no stranger to donor-focused fundraising. It was prevalent within higher education, but was just beginning to take shape in many other non-profit sectors. It is reprinted below with Tom's permission and in loving memory of Simone Joyaux. It's a really important piece.
Two days after Simone's passing, Charles Schultz, President of Crescendo, a highly respected planned gifts marketing firm, called to invite me to replace Simone as the keynote at their September 13-14 "Practical Planned Giving Conference." I told him I couldn't replace Simone, but I would bring my message – Marcy Style – that certainly contained her influence. It's an outstanding conference and perhaps you will join me there. https://www.crescendointeractive.com/training/ppgc.html
This all makes me vibrantly aware that we all are both irreplaceable and replaceable at the same time. Irreplaceable to those who love and value us, and replaceable to those who must keep moving forward – in the end – all of us. Tom shared that Simone's doctor, Dr. Steven M. Greenberg, at Mass General in Boston said there was no cure and advised Simone, "Just live your life as hard as you can."
Seems like good advice for us all.
Invest in JOY®
The Donor-Centric Pledge © Ahern and Joyaux.

Reprinted here with Tom's permission in loving memory of Simone Joyaux
……..
From Keep Your Donors: The Guide to Better Communications and Stronger Relationships, by Tom Ahern and Simone Joyaux (John Wiley & Company Publishers, November 2007)
We, [fill in the name of your nonprofit organization here], believe…
1. That donors are essential to the success of our mission.
2. That gifts are not "cash transactions." Donors are not merely a bunch of interchangeable, easily replaceable credit cards, checkbooks and wallets.
3. That no one "owes" us a gift just because our mission is worthy.
4. That any person who chooses to become our donor has enormous potential to assist the mission.
5. That having a program for developing a relationship with that donor is how organizations tap that enormous potential.
6. That we waste that potential when donors are not promptly thanked.
7. That "lifetime value of a donor" is the best (though often overlooked) way to evaluate "return on investment" in fundraising.
8. That donors are more important than donations. Those who currently make small gifts are just as interesting to us as those who currently make large gifts.
9. That acquiring first-time donors is easy but keeping those donors is hard.
10. That many first-time gifts are no more than "impulse purchases" or "first dates."
11. That we'll have to work harder for the second gift than we did for the first.
12. That a prerequisite for above-average donor retention is a well-planned donor-centric communications program that begins with a welcome.
13. That donors want to have faith in us, and that it's our fault if they don't.
14. That donors want to make a difference in the world — and that our mission is one of many means to that end.
15. That donors are investors. They invest in doing good. They expect their investment to prosper, or they'll invest somewhere else.
16. That we earn the donor's trust by reporting on our accomplishments and efficiency. 17. That individual donors respond to our appeals for personal reasons we can only guess at.
18. That asking a donor why she or he gave a first gift to us will likely lead to an amazingly revealing conversation.
19. That fundraising serves the donors' emotional needs as much as it serves the organization's financial needs.
20. That we are in the "feel good" business. Donors feel good when they help make the world a better place.
21. That a prime goal of fundraising communications is to satisfy basic human needs such as the donor's need to feel important and worthwhile.
22. That the donor's perspective defines what is a "major" gift. (A repeat donor of $25 annual gifts who suddenly increases her gift ten-fold to $250, for instance, is making a major commitment that deserves special acknowledgement.)
23. That every first gift can open a door to an entirely new world for the donor, through participation in our cause.
Invest in JOY®